The Market Arms Barn Conversion
The Market Arms, a commercial business based in Banff, contracted Neil Mckenzie Joiner & Slater to undertake the conversion of an existing barn out-building, to create additional space on their premises for customer dining and social use.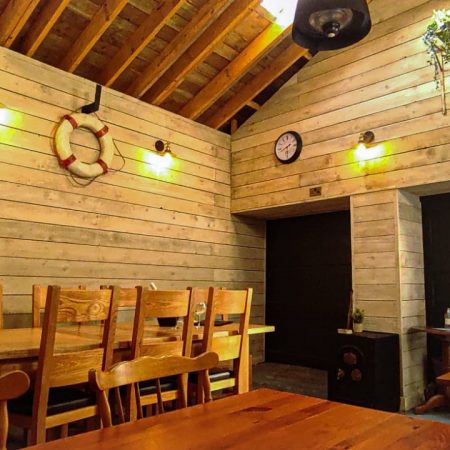 In response to Covid requirements for increased space for customer comfort and safety, the owners of The Market Arms in Banff looked to utilise unused out-buildings on their premises to increase capacity.
An out-building originally used for storage was identified as a conversion project to provide additional customer space and outside dining.
The barn was previously used as a storage area and so was required to be emptied and cleaned prior to renovation works starting. The roof was replaced and the interior stone walls were framed and lined with high quality wood to give a modern, stylish finish to the barn. The addition of ambient lighting, decor and dining tables and chairs completed the new space.
In addition, Neil McKenzie Joiner & Slater built several outdoor picnic benches to provide further customer dining and socialising space outdoors, as well as tall wooden dividers to maintain privacy and section the business' licensed parameters. A number of wooden planters were built to provide colour and decor to the outdoor area.
The Barn at The Market Arms is now complete and available for dining, small functions or just drinks with friends.